The best open world games on PC today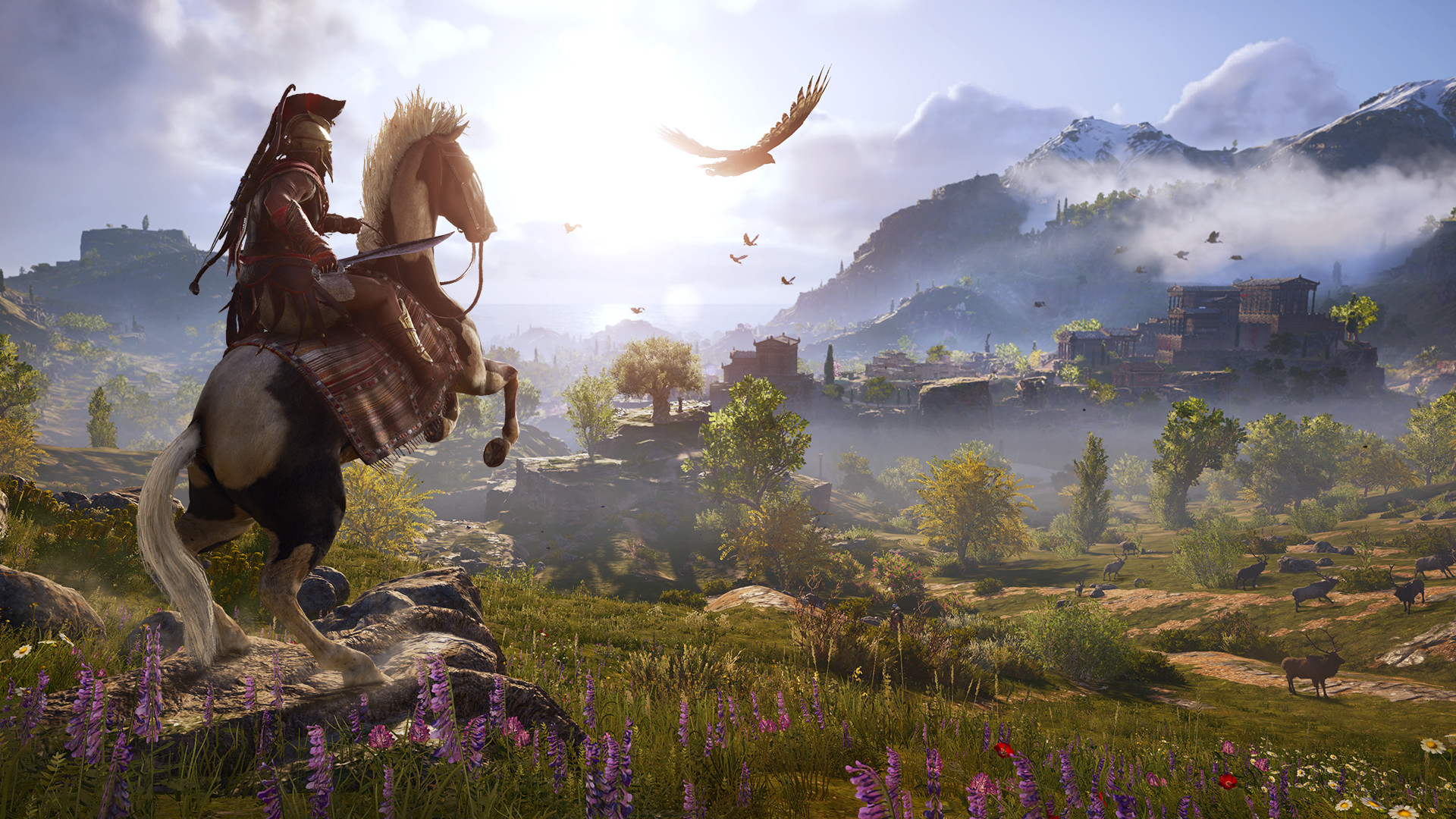 The best open world games will transport you to beautiful, intricately-detailed worlds that are waiting to be explored. They'll take you to places so incredibly immersive you'll feel like you've just been physically teleported to a completely different planet far away from Earth. And, as a bonus, you're also getting side quests to make your gaming experience all the more interesting.
It's no wonder that many of the most popular titles in gaming right now are also the best open world games to date. They're proof of just how far the best PC games and gaming PCs have come in the last decade. The genre has become so big and has amassed such a fanbase, in fact, that even the best indie games have thrown their hats into the ring, proving that you don't have to be a huge studio to take advantage of the open world design.
From the biggest games like Red Dead Redemption 2, The Witcher 3 and Grand Theft Auto V to co-op titles like Ghost Recon Wildlands, open-world titles are the PC games to get into right now. Dig into our list of the best open-world games 2020 has to offer, and start exploring.
Hideo Kojima's post-Konami return to the digital stage has come with the surreal Death Stranding. Not only is it a fever dream in the form of a game, but it also does something new with the open world format.
You control Sam Porter Bridges, portrayed by Norman Reedus, as he delivers cargo across a stark, beautiful and unsettling landscape. In this post-apocalyptic world, you have to deal with an assortment of strange enemies, most notably BTs, which ghost-like creatures only visible to Sam thanks to a fetus strapped to his chest. That's the tip of the iceberg on what makes this game so strange and fascinating. When you die, you have to find your strand of life in an ocean to come back to life. And, your initial weapon of choice is a rope coated with your blood.
This game is not for everyone. However, if you like genre-bending and thought-provoking games, you're in for a treat.
The first two Witcher games were compelling, complex and challenging, even though it only relished minor success. All the word of mouth about the first two games led to the Witcher 3 getting big when it was released. It was a huge step up in quality as well, which makes it undoubtedly one of the best RPGs of all time.
You step in the shoes of Geralt, a mutated monster hunter or witcher, and you're tasked to scour the world for your adopted daughter in a medieval period ravaged by war. Geralt can walk, ride or sail across the war-ravaged lands (and seas) of Novigrad, Velen and Skellige. You can even forage for herbs, explore under the seas or the city back alleys, and encounter all kinds of folk and creatures. The other elements of the game are spectacularly polished as well - limber, agile combat, a deep levelling system and a storyline with some unusually-smart storylines. Plus, with the Blood and Wine expansion, you'll be able to take on a clan of Vampires in the colorful land of Toussaint, too.
The Witcher 3: Wild Hunt is now four years old, but it definitely stands the test of time and is still one of the best open world games on the market right now. This well-realized world blows the likes of Skyrim out of the water.
One of the reasons open-world games are so popular is because of how immersive they can be, and Red Dead Redemption 2 draws you in like almost no other. Explore a fictionalized Wild West where you can spend hours just hunting, robbing trains or coaches, or just riding and bonding with your favorite horse. Or just spend hours just gambling, if you want.
It's not just the world-building that makes RDR2 such a fantastic game, however. The tale of Arthur Morgan and his gang, and their exploits as they try to stay a step ahead of the law is about as epic and operatic a story as they come. On top of that, this game is gorgeous. Let's just say there's a reason this game features a cinematic mode camera view.
2017's Assassin's Creed: Origins felt like a revelation of what an Assassin's Creed game could become. It traded many of the gameplay mechanics with what those that are more immersive, organic and even fun. However, Ubisoft went even farther with Assassin's Creed: Odyssey. It has polished everything that made Assassin's Creed: Origins so great, weaving it into the best game in the series so far.
Assassin's Creed Odyssey puts you in the shoes of Alexios or Kassandra in the middle of ancient Greece, as you take on the role of a mercenary trying to find his or her family. Everything else you do is completely up to you – you choose your alliances, you choose your missions and the world is your oyster.
The incredible RPG mechanics from Origins make a return in Assassin's Creed Odyssey, along with some much-needed enhancements. In many ways, this game perfects the legendary series' formula, making for one of the best open world games of all time.
Plus, if the massive world wasn't already enough content for you, there's more good news: Ubisoft is constantly updating it with new content, new mercenaries to hunt down and even some fresh expansions. If you pick up the season pass, you get access to Assassin's Creed III Remastered, which includes Assassin's Creed: Liberation.
Grand Theft Auto V has been out for quite a while now, but because we're still waiting for Red Dead Redemption 2 on PC, it remains to be the best open world game on PC from Rockstar. It's a massive pastiche of L.A. through which you can fly, run or drive across. It's an incredible achievement, and the fact that it works in multiplayer is amazing.
What makes it such a success, however, is the freedom it gives you. When you're not running around and robbing banks during the campaign, GTA V basically lets you do whatever you want – even if it breaks the game. You can go anywhere, do anything and commit however many brutalities as your wicked heart desires.
There are also a number of activities on hand for you on the side. This means that when you're not busy initiating all sorts of mayhem, you can alternately take up tennis, do yoga or even kick your feet up and watch some TV. There's a reason this game is so beloved.
The plot may not have made much sense, but Hideo Kojima's last addition to the Metal Gear franchise was a legend of layered open world mechanics, which is why we're so psyched about Death Stranding.
In the twin deserts of Afghanistan and Angola, Big Boss – or Venom Snake – has a range of objectives to tick off. As him, you wander the areas on foot, horseback or in an assortment of ground vehicles. You can arm yourself with either lethal or non-lethal weapons, as well as take a variety of AI companions.
The world of Metal Gear Solid V is extremely bleak, weather-torn and heavily guarded. Uniquely, it learns from your behavior – abuse of a particular tactic, and your enemies will adapt. For instance, rely too much on headshots, and they'll start wearing metal helmets.
Away from the frontline, you can develop Mother Base by building new facilities and airlifting enemy soldiers, prisoners, resources, vehicles, animals and anything else you want to from the battlefield to beef up your armory.
Bethesda has made a name for itself over the last couple of decades by producing some of the best open world games, and Fallout 4 is an excellent example of why. You'll be dropped in post-apocalyptic Boston, where you'll explore the ruins of the city in all its retro-futuristic glory.
While the plot ultimately revolves around saving your kid from their kidnappers, you might momentarily forget all about that with all those side missions, as well as pillage loot from super mutants and bandits.
Once you get everything done (if you ever do), Bethesda's games have a tendency to be immensely re-playable because of the way different character builds can interact with the world around you.
Get even closer to the action by playing through Fallout 4 in VR, with the HTC Vive.
When Middle Earth: Shadow of Mordor was released almost five years ago, it was acclaimed for its portrayal of Tolkien's Mordor as well as its distinctive nemesis system. The sequel, Middle Earth: Shadow of War, takes this concept and turns it up to 11, allowing you to roam in the last human stronghold in Mordor.
This is one of the best open world games you can immerse yourself in during 2020. Especially after the removal of the microtransactions that plagued the game at launch, the Nemesis system still feels fresh. In addition, the combat is just as good as ever, with a wealth of new skills you can unlock during its extensive campaign.
Later in the game, it will start introducing some RTS elements as you command an army of dominated orcs to retake different strongholds. The Middle Earth series has shown some real innovation, and we can't wait to see what else Monolith Studios has in store in the near future.
Last year, Ubisoft took one of the most highly acclaimed squad-based shooter series in its lineup, Ghost Recon, and honed it into an open-world paradise. You're set loose in Bolivia, tasked with taking down a drug cartel that has taken power over the region – by set loose, we mean you're free to pursue this goal however you feel like.
Ghost Recon Wildlands may be one of the best open world games when you're playing by yourself, but where it really excels is when you're playing with friends. This is because Ghost Recon, at its very core, has always been a tactical shooter that's built around working with a team of AI companions. Inherently, when you team up with your friends, this gameplay is elevated to a whole new level completely.
Just keep in mind that this game is an absolute stunner, which means it requires a pretty beefy setup to run properly, so make sure to pay close attention to those system requirements before you start.
When the first Crackdown was released in 2007, it kind of changed the game, with you taking the role of a superpowered cop out to catch a cast of zany criminals. While Crackdown 3 hasn't changed much in the 12 years since, it still boasts its own identity.
Crackdown 3 takes the super-powered hijinks of the original and scales it to modern graphics without changing too much of what made the original game so great. This might make it feel a little antiquated to some folks. However, if you were into the first one, there's much love here.
What really stands out here, however, is the new Wrecking Zone multiplayer game mode. It uses the power of Microsoft Azure cloud computing to make the whole city destructible.
Far Cry 5 might just be the archetype of what the best open world games on PC should be in 2020. This game is distinctive in the fact that it lets you to truly go anywhere on the map – not to mention, do anything. As it doesn't water this freedom down by limiting the amount of space you have open to you, it's also perhaps one of the biggest game maps we've ever roamed in.
Far Cry 5 takes place in the middle of the Montana wilderness, and while it does boast a plot that involves cultists or something, that all falls into the background as you wander around and get lost in the massive world. We haven't finished Far Cry 5, and we don't think 'finished' exists in this game.
We're not the only ones that love Far Cry 5, either. At the Game Awards 2018, Ubisoft announced Far Cry: New Dawn, a direct follow-up – a first for the classic shooter series.
For years, the Yakuza franchise has been somewhat of a best kept secret. Lately, however, these incredible games have gotten some well-deserved mainstream success. And, thanks to this success, these classic titles are finally, albeit slowly, making their way to PC with Yakuza Kiwami leading the charge.
It's a remake of the first Yakuza title, which was rolled out nearly 13 years ago in the US. With it, PC gamers can finally see how the franchise got its start, putting players in the shoes of Kazuma Kiryu as he battles his way through the Yakuza's ranks. More than that, it's a gripping mix of serious storytelling and silly moments – something that the Yakuza series would become famous for over the years.
When Rage came out back in 2010, it was critically lambasted for being a technical mess on PC. Now, almost ten years later, Rage 2 is here, it has perfected dramatically on almost every aspect of the original. So much so that it's made our best open world games of 2020 list.
id Software teamed up with Avalanche Studios to bring the perfect blend of brilliant gunplay and open-world shenanigans. You're let loose in the middle of an unexpectedly colorful post-apocalyptic wasteland, where you're free to destroy everything that gets in your way.
Not only are there a ton of big guns, but you also get a bunch of deadly Ark powers that you can use to exterminate your enemies. The mark of a true Rage 2 pro will be the ability to combine all of these abilities together into visceral chains of carnage.
The gameplay feels excellent. In fact, you'll have so much fun blowing everything up that you'll hardly notice how empty the open world is. And, really, that's exactly what we wanted out of an open world shooter from id Software, especially after the excellent Doom 2016.
You might not quite get why Forza Horizon 4 is even on a list of the best open world games. After all, Forza is a racing series, not an open world game. However, you'd only be half right. Yes, it's indeed a racing game, but the Forza Horizon series has always sat among the best open world games to date. And, Forza Horizon 4 takes that winning formula even further.
Not only are all of the systems that were in place in 2016's Forza Horizon 3 present here, but they've also been polished to craft one of the smoothest open world racing games we've ever had the pleasure of playing.
The map is slightly smaller than the previous offering, but Forza Horizon 4's world changes seasons every week, which changes how each track plays every time you play it (or, at least until you've played it on 4 separate weeks). Simply put, Forza Horizon 4 is one of the most fun racing games on the market. With all the added open world content – like collectible cars and randomly placed ramps – it's also one of the best open world games on the market.
In addition, there are new expansions getting added, like Forza Horizon 4: Fortune Island, for even more content.
Find Out More About Us
Want to hire best people for your project? Look no further you came to the right place!
Contact Us